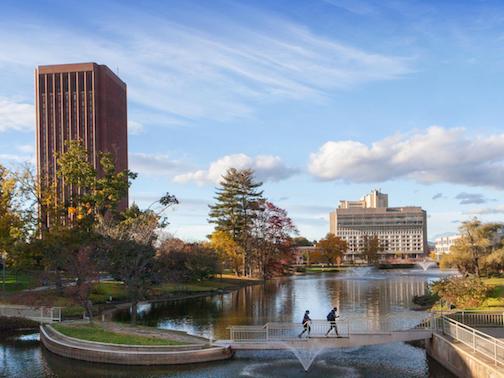 The SFS applications are now being accepted on a rolling basis for scholarships that begin in the spring 2024.  Students are encouraged to apply by 10/7/2023. 

Through the CyberCorps: Scholarship for Service (SFS) program (click link for more details), University of Massachusetts Amherst provides scholarships to students studying in the field of Cybersecurity.  Scholarship recipients will complete either a Bachelor's or Master's degree in diverse Cybersecurity-related programs.  After graduation, participants must fulfill a government service obligation for a period equivalent to the length of their scholarship, which generally must be two full academic years (four regular semesters).
Current UMass Amherst undergraduate or graduate students enrolled in the Computer Science degree program (not Informatics) at the College of Information and Computer Sciences or the departments of Mathematics & Statistics and Electrical & Computer Engineering are eligible to apply. Students studies must be focused on security.  Students must expect to graduate and enter the work force within two years (four semesters) of the semester they expect to start the SFS program. 
Academic-year stipends are $25,000 per year for undergraduate students and $34,000 per year for graduate students. Tuition includes education related fees but it does not include items such as meal plans, housing, or parking. The professional allowance is $6,000 per academic year and is restricted to pre-approved expenses that include travel and registration for the SFS Job Fair, travel to academic conferences, research materials and supplies, a laptop, books, professional training and certifications; the categories are limited.
Applicants are required by federal law to be a US citizen or permanent resident.
We strongly encourage applications from women and other underrepresented groups.
The SFS Program is offered and funded through the National Science Foundation (NSF) in collaboration with the Department of Homeland Security (DHS).